How to choose your Guild for the Gatecrash Prerelease
Let's take a look at various aspects of the guilds from the upcoming Gatecrash prerelease and find out which one is the best.
Now that the official spoiler is up, I am going to examine the following aspects of the new guilds:
Each guild gets points (1 to 5, 5 being better). Mechanics and removal get a factor of 2 compared to the promo rares, as they appear less important to me.
Promotional Rares
As you get one guild pack you also get one promotional (foil) rare that you are allowed to play in your deck. Let's see how they match against each other.
Orzhov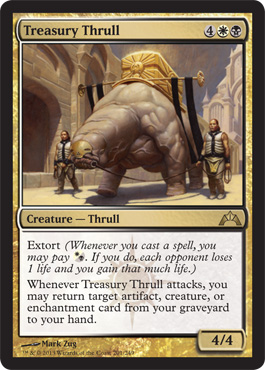 Treasury Thrull is no Sun Titan. The effect (returning things from your graveyard) is certainly powerful. Too bad you have to attack for it to happen, as a 4/4 for six is probably not got enough. I believe this guy is doomed to stay on defense most of the time, where at least the extort ability is somewhat useful.
1 Point
Dimir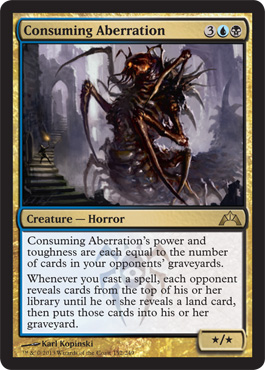 Consuming Aberration is difficult to evaluate as its power and toughness depends on the number of cards in your opponent's graveyard. Luckily, this thing fills itself. Meaning that even if you can't stabilize directly when you play it, It will dominate the ground after you cast a spell or two. Also it gives you another line of attack: Milling your opponent!
4 Points
Gruul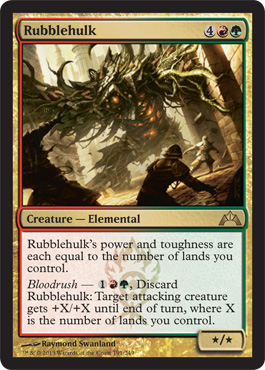 Rubblehulk is at least a 6/6 for six when you play him on curve. Its Bloodrush ability is probably going to end a reasonable number of games. Other than that, it's just a stupid giant monster. No evasion, no trample. Meaning that it can be chump blocked when your opponent doesn't have removal on the spot.
3 Points
Boros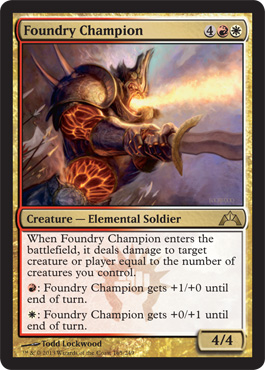 Foundry Champion is the best of the bunch. It has a Flametongue-Kavu-like effect, when it enters the battlefield, so you a very likely to get a two-for-one out of it. Pump effects on both sides (Firebreathing, Holy Armor) ensure that you can at least trade with your opponent's best creature. Assuming you haven't killed it with the ETB trigger before.
5 Points
Simic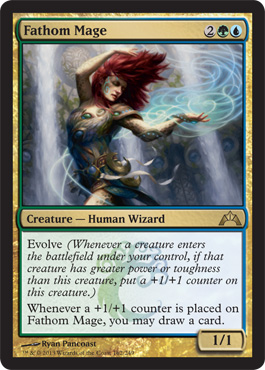 Fathom Mage is powerful, but slow. Drawing extra cards is always a welcome ability. But she does not so directly, assuming you don't have a direct follow-up. She doesn't affect the board and dies to every removal spell.
2 Points
Standings
| Category | Orzhov | Dimir | Gruul | Boros | Simic | Factor |
| --- | --- | --- | --- | --- | --- | --- |
| Promos | 1 | 4 | 3 | 5 | 2 | 1 |
| Result | 1 | 4 | 3 | 5 | 2 | |
Guild Mechanics
Usually sealed decks are less focused than draft decks. Cards that are good on their own are better than those that need help through synergies. The guild booster might change that to some extend, however I'm still going to value mechanics that rely less on synergy higher than the other.
Orzhov:
Extort makes for an interesting mechanic. Compared to the other guilds your creatures are slightly less powerful, but you get to drain them every time you cast another spell to make up for it. I believe the ability is good on its own and becomes very good in multiples in the late game, making even your dorky two drops very good top decks.
4 Points
Common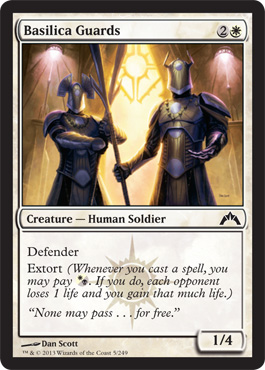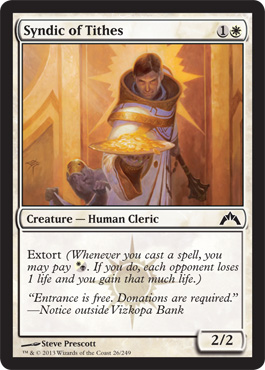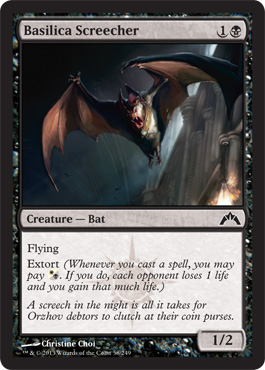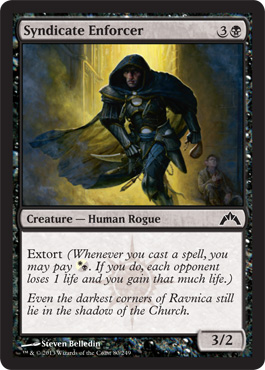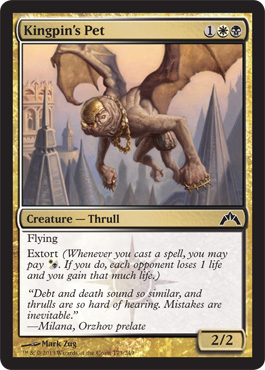 Uncommon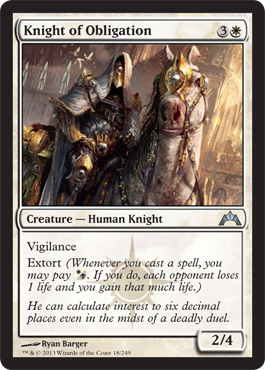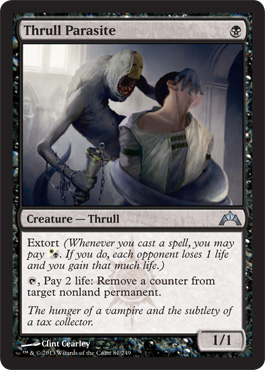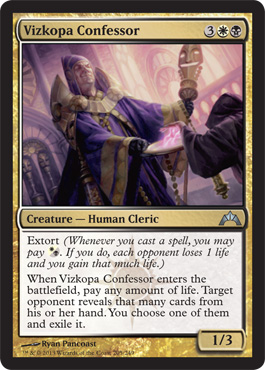 Dimir
Cypher is the most difficult mechanic. You will need a good mixture of evasive threats and cyhper spells to make it worthwhile. Luckily you have plenty of evasive guys in Dimir, but it comes at a price, which is worse stats compared to the other guilds.
As for the the cypher spells: The good ones are expensive (4 mana and upwards), meaning that you have to connect at least once with the creature cyphered on to get your return of investment. Everything afterwards is pure value. As sad as it makes me, I think it's going to be too hard to pull off reliably in sealed.
You also have a mill sub theme with some synergies. People will certainly try it, as it's a huge crowd-pleaser for the casual players. I think it's not going to be viable as you usually can't mill your opponents before they kill you with damage, but I might err on that side.
1 Point
Common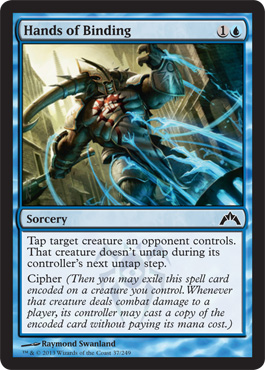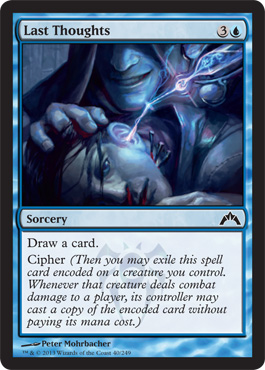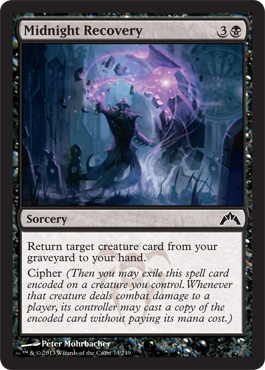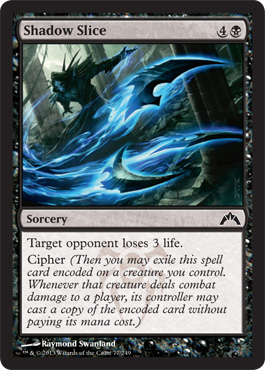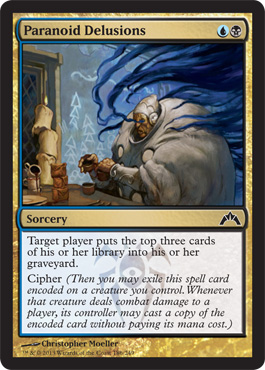 Uncommon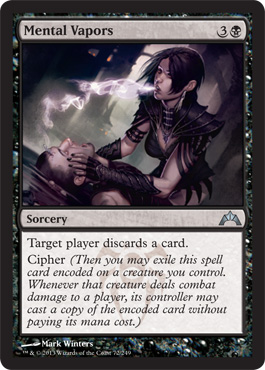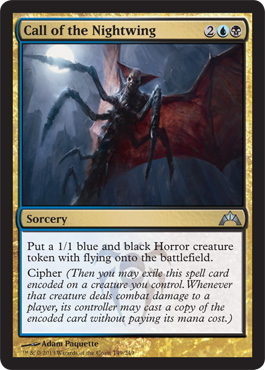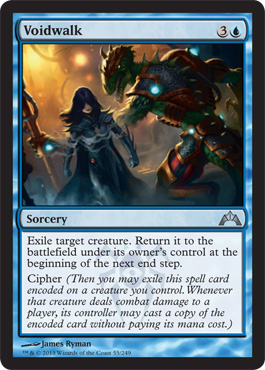 Gruul
Bloodrush is very easy. It's the least synergistic mechanic and it basically transforms all your creatures into combat tricks. It probably means that you can always attack with your small guys into your opponent's bigger guys. It's noteworthy that bloodrush can't be countered as it's an ability and not a spell and that it only works on offense. In general your creatures are going to be the biggest (maybe sometimes tied with Simic). Just be cautious of instant speed removal, when you're on a bloodrush.
5 Points
Common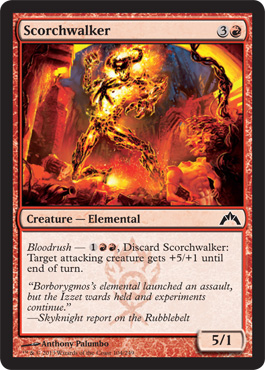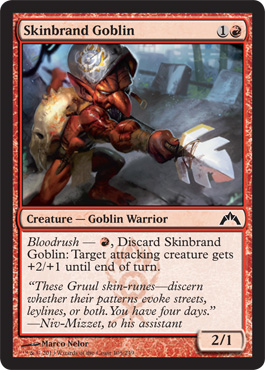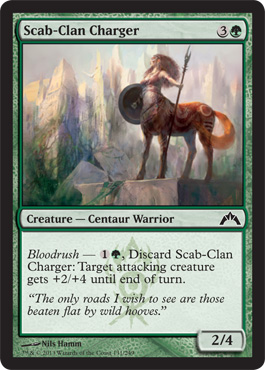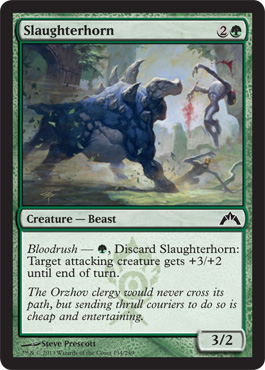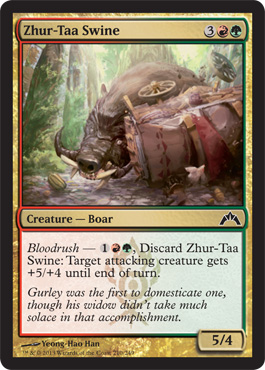 Uncommon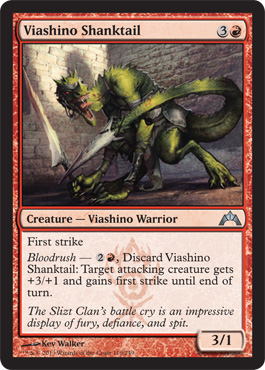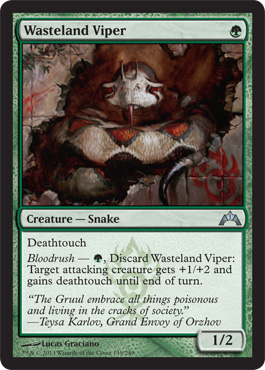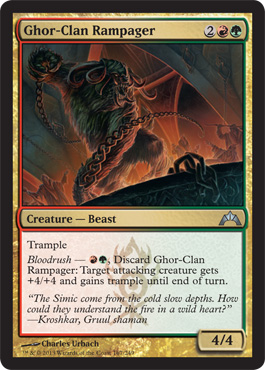 Boros
Battallion is all about hordes of small creatures working together to achieve something bigger. Your creatures are going to be small but aggressively priced. If your manage to constantly reach the battallion threshold of 3 attacking creatures you can probably keep attacking. If not, you are left with a bunch of 2/2s and might have trouble closing games after your early creature rush.
2 Points
Common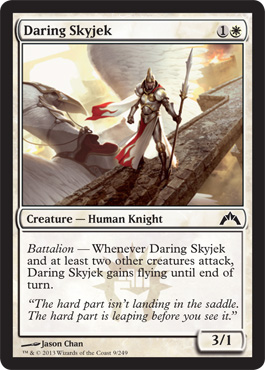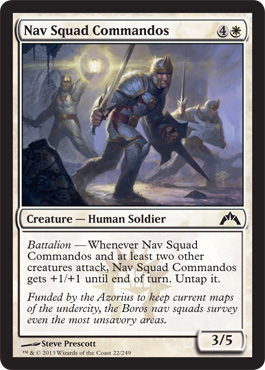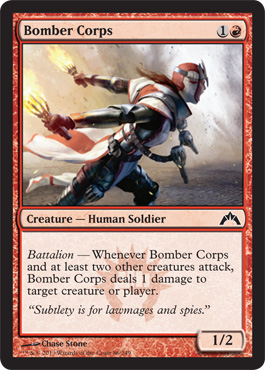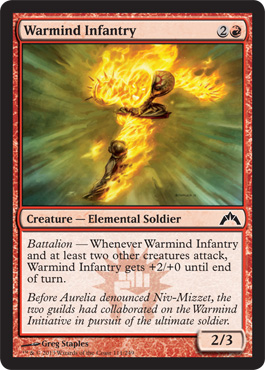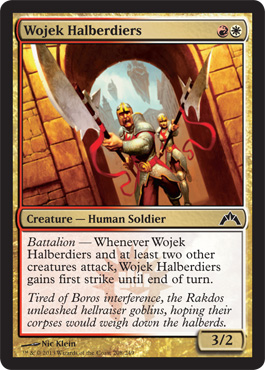 Uncommon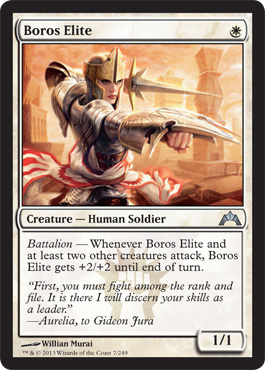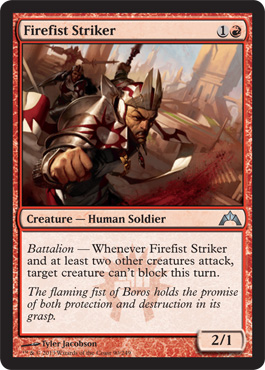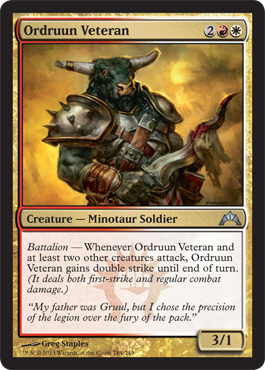 Simic
Evolve potentially gives you big monsters at a bargain. It's noteworthy that you can trigger your evolve creatures by having bigger power or toughness on your follow-ups. You also have a lot of tricks at your disposal, if you want to grow your creatures mid-combat. The biggest flaw of evolve is that you have to draw your creatures in the right order, making your low-costed guys even worse top decks.
3 Points
Common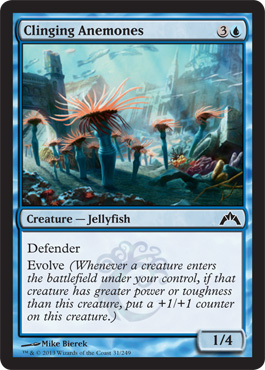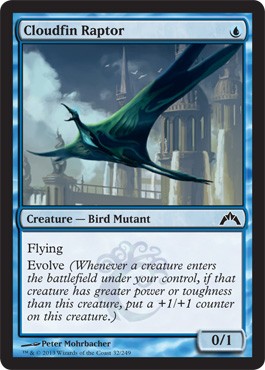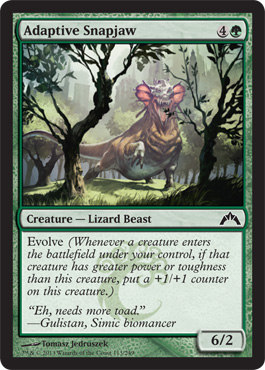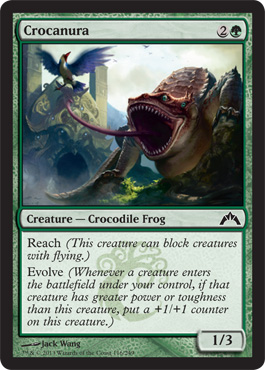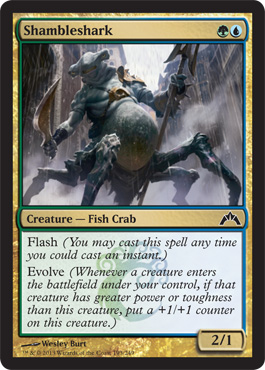 Uncommon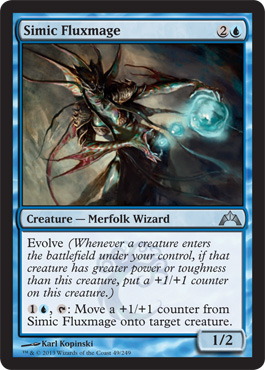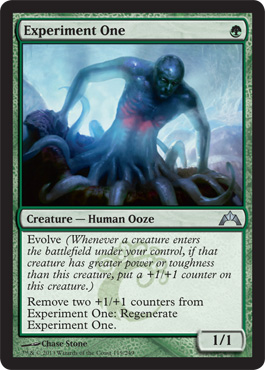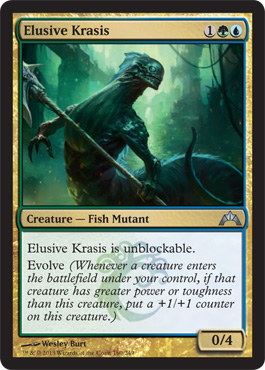 Standings
| Category | Orzhov | Dimir | Gruul | Boros | Simic | Factor |
| --- | --- | --- | --- | --- | --- | --- |
| Promo | 1 | 4 | 3 | 5 | 2 | 1 |
| Mechanic | 4 | 1 | 5 | 2 | 3 | 2 |
| Result | 9 | 6 | 13 | 9 | 10 | |
Access to Removal
Removal is very important in sealed decks. People will play their best cards. Your ability to deal with them highly impacts your win percentage. As for removal cards: unconditional (destroy or exile effects) are better than conditional (damage based, only blocked creature, etc.), instants are better than sorceries, commons are more important than uncommons.
Orzhov
We start with the best. Orzhov has access to two unconditional removal spells (Angelic Edict and Grisly Spectacle) at common level. Smite and Executioner's Swing work best with the defensive nature of your guild. As a bonus you also get the best removal (Orzhov Charm and One Thousand Lashes) at uncommon level.
5 Points
Common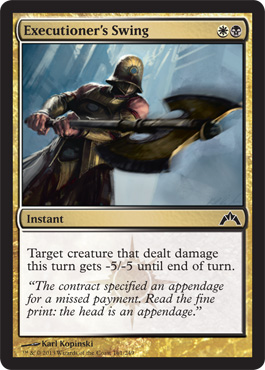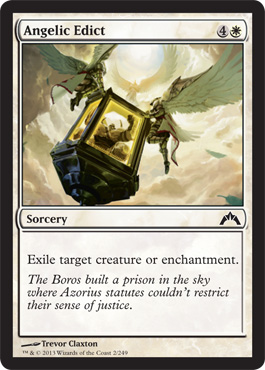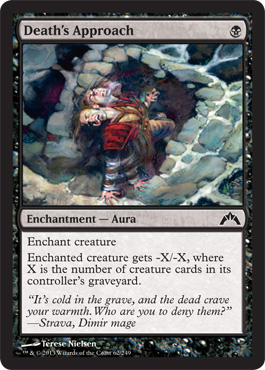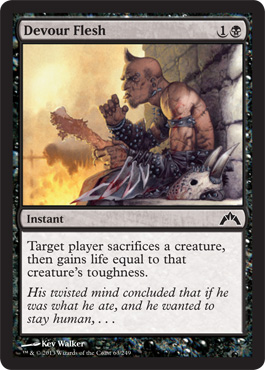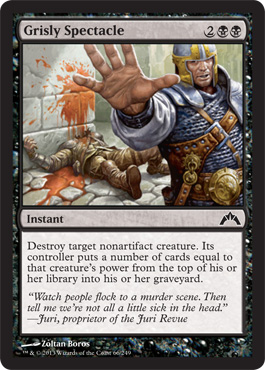 Uncommon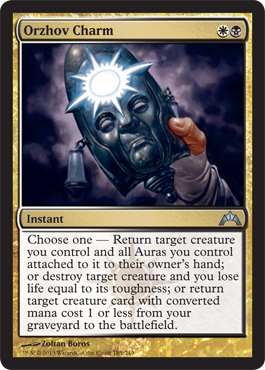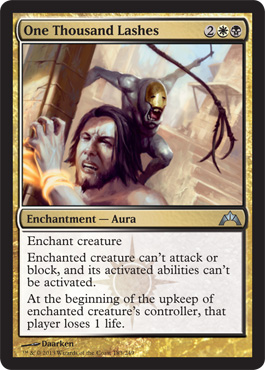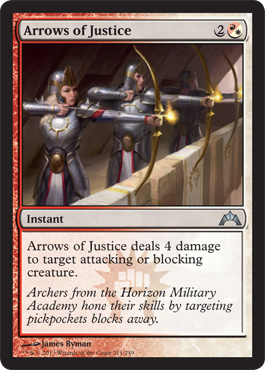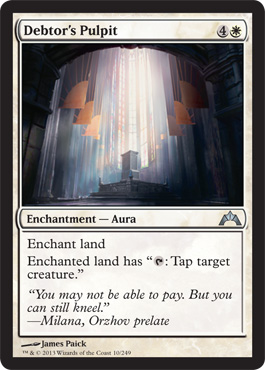 Dimir
With Dimir you don't get much from blue, but you still have access to the good black removal spells. Also Death's Approach works best with Dimir's sub theme of milling.
4 Points
Common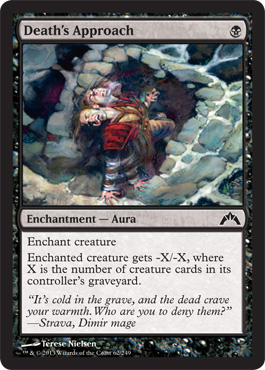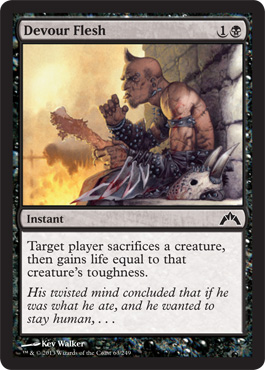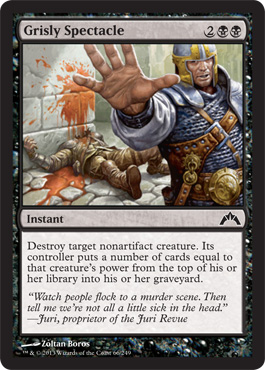 Uncommon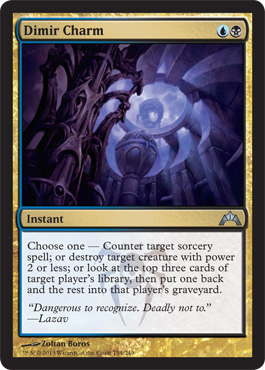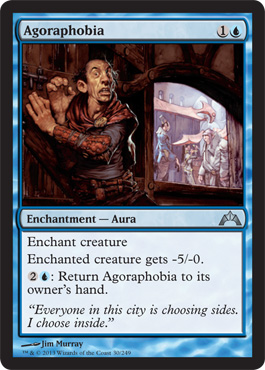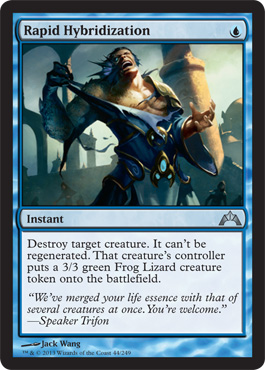 Gruul
With Gruul you get red's burn spells, but green doesn't add much. Pit Fight is a noticeable exception and given that you probably have the bigger part of the fight makes it very good. Also it's instant speed, so you can potentially do some nice tricks with it. However, compared to the other guilds, you don't have that much hard removal.
2 Points
Common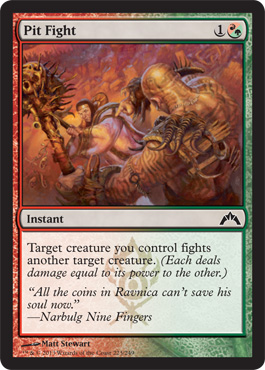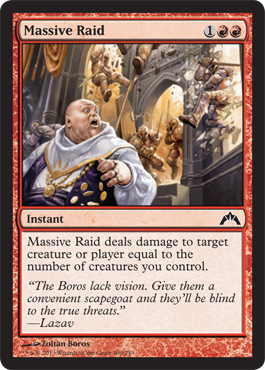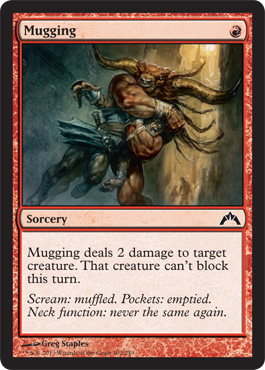 Uncommon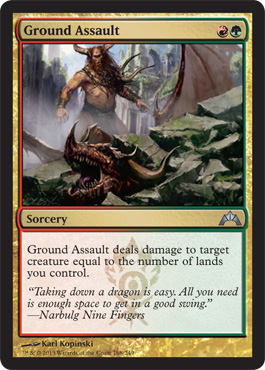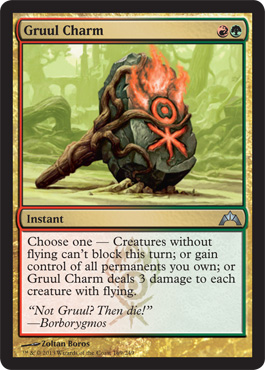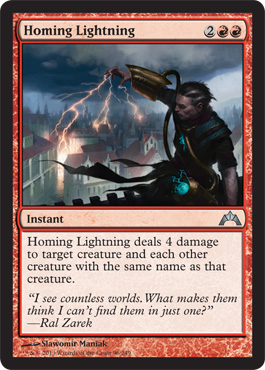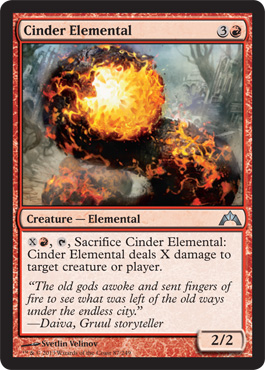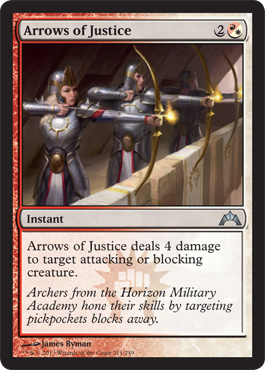 Boros
Massive Raid works best in Boros, as you generally want to put as much guys on the table as possible in order to trigger Battalion. While Angelic Edict might not be the most cost-effective removal, it's still unconditional. Please note, that Smite (you don't want to block) and Pit Fight (your creatures are small) are probably bad when playing Boros.
3 Points
Common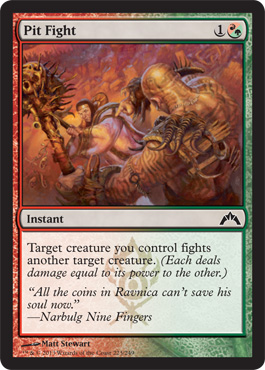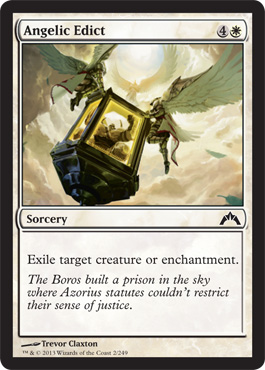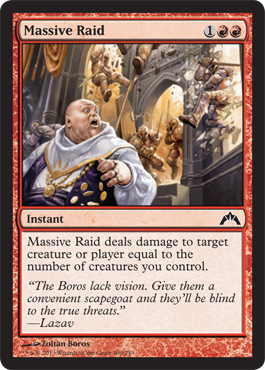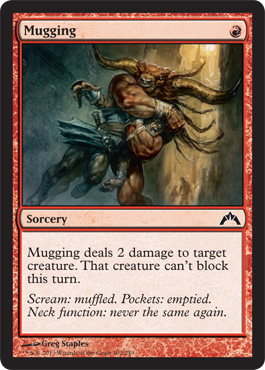 Uncommon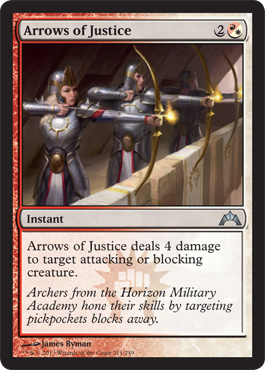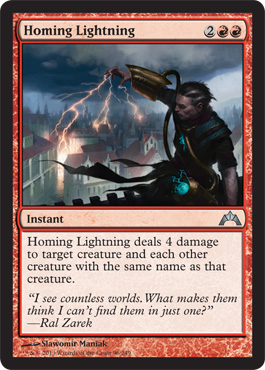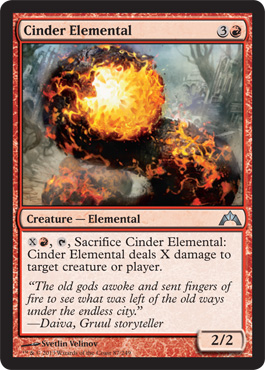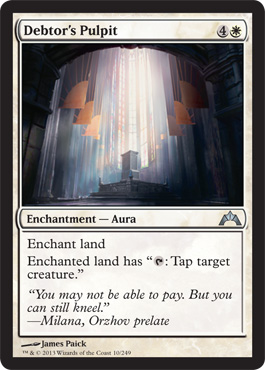 Simic
Sorry, Simic. You're left with maybe taking opposing fatties to a Pit Fight or delaying them with some blue tempo spells. Other than that you generally need to win before the spoilers of your opponent can take over the game.
1 Point
Common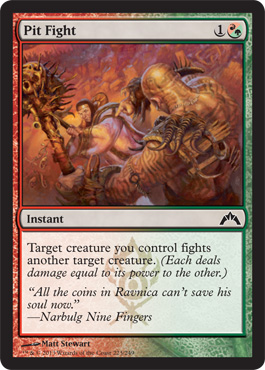 Uncommon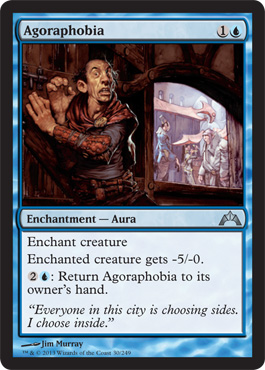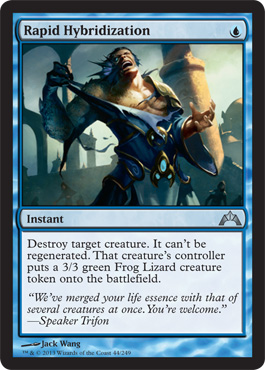 Standings
| Category | Orzhov | Dimir | Gruul | Boros | Simic | Factor |
| --- | --- | --- | --- | --- | --- | --- |
| Promo | 1 | 4 | 3 | 5 | 2 | 1 |
| Mechanic | 4 | 1 | 5 | 2 | 3 | 2 |
| Removal | 5 | 4 | 2 | 3 | 1 | 2 |
| Result | 19 | 14 | 17 | 15 | 10 | |
Conclusion
And the winners is: Orzhov. This is the guild I'm going to play. However, there are some aspects (creatures in general and spells not connected directly with a guild mechanic) that were not part of this examination. Also each estimation is done before having actually played with the cards so take it with a grain of salt. Prereleases in general are mostly casual and for having fun, so I assume you play with the guild that suits your playstyle best.
Good luck at the prerelease, everyone!
23.01.2013 • #Limited, #Sealed, #Casual, #Gatecrash, #Prerelease