Drafting Dimir in Gatecrash
In the first part of an ongoing series about drafting the 5 guilds of Gatecrash I am trying to decipher the secrets of Dimir.
Update 30.01.2013: Due to initial feedback, I added the missing, 'unaffiliated' cards. Additionally I changed the ratings to represent their overall power, not their importance in the archetype. This hopefully helps to clear up some confusion. I took the knowledge that Grisly Spectacle is better than Sage's Row Denizen as a given, but the new ratings reflect that better. I also added a finer grading based on @lsv's scale from Channel Fireball.
5.0: I will always play this card. Period.
4.5: I will almost always play this card, regardless of what else I get.
4.0: I will strongly consider playing this as the only card of its color.
3.5: I feel a strong pull into this card's color.
3.0: This card makes me want to play this color. (Given that I'm playing that color, I will play this card 100% of the time.)
2.5: Several cards of this power level start to pull me into this color. If playing that color, I essentially always play these. (Given that I'm playing that color, I will play this card 90% of the time.)
2.0: If I'm playing this color, I usually play these. (70%)
1.5: This card will make the cut into the main deck about half the times I play this color. (50%)
1.0: I feel bad when this card is in my main deck. (30%)
0.5: There are situations where I might sideboard this into my deck, but I'll never start it. (10%)
0.0: I will never put this card into my deck (main deck or after sideboarding). (0%)

Please note: In this series I am going to evaluate the different draft strategies of Gatecrash. In opposition to other set reviews, I'm not going to give you fixed pick orders, but rather rank cards (1 to 5, 5 being more important) in order of importance in their given archetype. Additionally I will only look at commons and uncommons as they make the biggest fraction of limited decks. For now I believe, that there will be two distinct archetypes (a fast and a slow one) for each guild, similar as in Return to Ravnica.
Welcome to house Dimir, the guild of secretiveness and infiltration. We are starting this series with the least obvious mechanic and most difficult guild. I'm confident that there are two very different archetypes in here: One revolves around the cypher mechanic, while the other tries to win by decking their opponent.
The cypher Deck
The cypher deck is a tempo-based aggro-control deck that wants to combine cheap, evasive threats with continuous activations of its good cypher spells. It will probably play out similar how Faeries or Delver did in constructed in a sense, that it deploys some early threats and then tries to protect them by disrupting its opponent's game plan.
Evasive Threats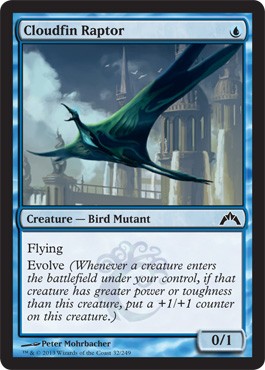 Cloudfin Raptor
This one is the prototype of a cheap, evasive threat. In your deck it's going to be a 2/3 or 3/4 at maximum, but it still only costs 1 mana. You will have to fight with Simic over it.
5 Points
3.5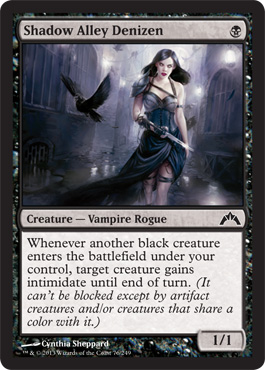 Shadow Alley Denizen
She's seems weak to me. First you would need big creatures other than her, that don't have natural evasion. Second, if you have a lot of black creatures (I'd say +12) and are not facing a black playing opponent, she might make the cut.
1 Point
1.0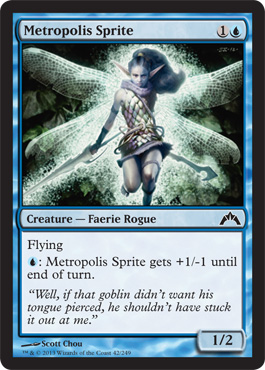 Metropolis Sprite
She seems innocuous on paper, but is going to be Stormfront Pegasus with a small drawback most of the time.
5 Points
3.0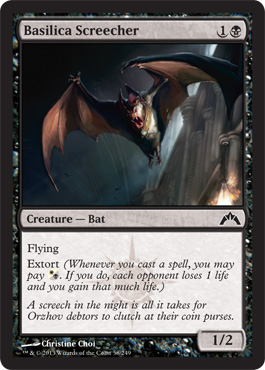 Basilica Screecher
The stats on this one aren't as good as Metropolis Sprite, but it's still an evasive two drop. Also extort is a powerful ability in general and it combos with cypher (You are casting a copy of the cyphered spell, which triggers extort).
4 Points
3.0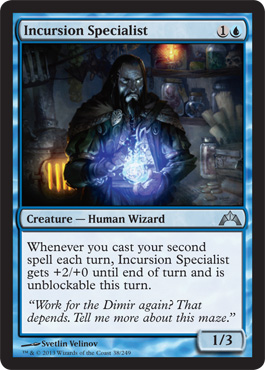 Incursion Specialist
He seems good on paper, but in reality his ability won't trigger that often. Too bad cypher triggers after a creature wasn't blocked. I would never play him, except if the curve of my deck stops at 3, which seems rather unlikely.
1 Point
0.5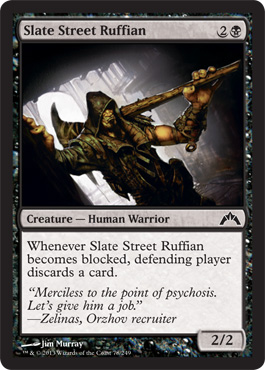 Slate Street Ruffian
The ruffian is only pseudo-evasive, which makes him a bad cypher target. His stats are bad for the price and he will be outclassed pretty early. At least he's going to always trade for card, but giving your opponent the decision about which one, is not a place where you want to be.
2 Points
1.5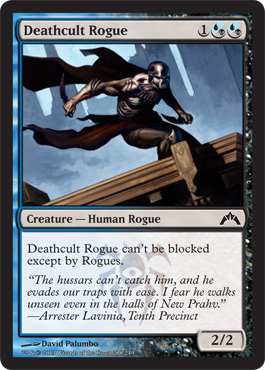 Deathcult Rogue
He's very good when your are not playing against guilds that have access to rogues (Dimir > Orzhov > Simic). He will stay on the sidelines from time to time. Given the choice, I'd recommend taking the two drops over him. His mana requirements are prohibitive for the other guilds, so you should get him later than you would expect.
3 Points
2.5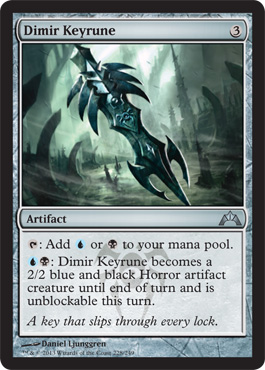 Dimir Keyrune
While not a premier cypher target it has some merits. It has true evasion (unblockable) and it doesn't die to sorcery speed removal. The encoded spell is going to 'stay' on the artifact, even when it's not a creature anymore. The drawback (activation cost) is real, but I would always play it nevertheless.
3 Points
2.5.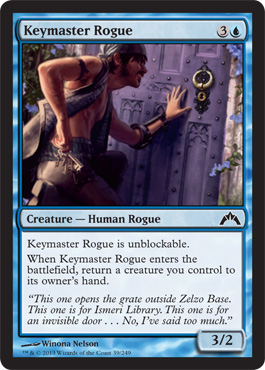 Keymaster Rogue
The impact of his drawback is going to vary highly. You might get some additional evolve triggers on Cloudfin Raptor or reuse some ETB triggers from your creatures from time to time, but for the most part you will simply bounce a low-priced guy of yours and lose some tempo. He's still a 3 power unblockable creature that will end games fairly quickly if left unhandled.
4 Points
3.0
Cypher Spells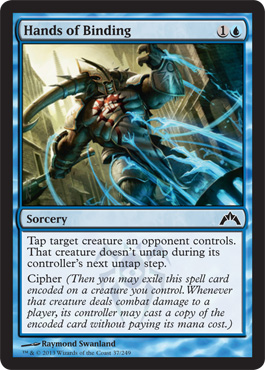 Hands of Binding
I think this is going to be the most important cypher spell at common level. It locks down their guys and gets your guys through, even your non-evasive ones. This one is going to be essential at racing the other aggressive decks in the format. All that at a the low cost of two mana.
5 Points
3.0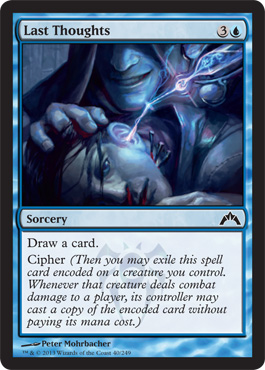 Last Thoughts
This is basically Curiosity that replaces itself when it comes into play. It might offset your card disadvantage when your other cyphered creatures got owned by instant speed removal.
3 Points
2.5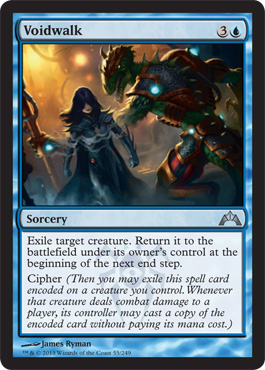 Voidwalk
This is garbage and sideboard material. You certainly don't want to blink your own guys (that have encoded cypher spells) and blinking theirs is usually not enough value. I would bring it in against Simic to set back their evolution or if I'm playing against a lot of auras. It combos with Dinrova Horror and Urbis Protector, for what it's worth.
1 Point
1.0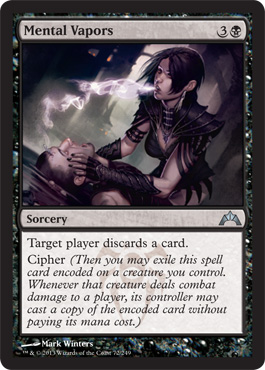 Mental Vapors
This is going to be an expensive Mind Rot for the most part. To the contrary of card draw, discard gets quite bad in the late game, so it's fairly useless against aggressive decks, but I might bring it in in against slow ones.
2 Points
1.5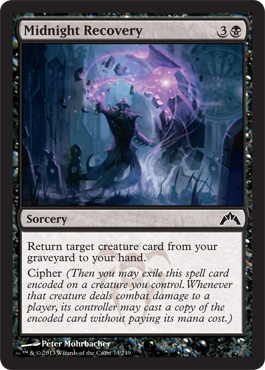 Midnight Recovery
Similar to Last Thoughts this one might compensate your card disadvantage in grindy matchups against opponents with a lot of removal. The potential advantage is still limited to the number of creatures in your graveyard, so it's situational.
2 Points
1.5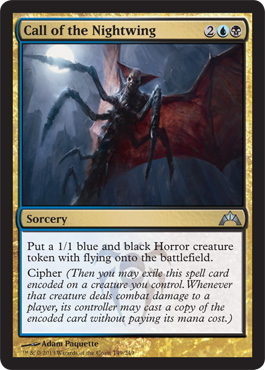 Call of the Nightwing
Finally another good cypher spell, if not the best. Making tokens is always powerful in limited, but them having flying puts it over the top and gives additional targets for your other cypher spells. And yes, you can cyhper on the token generated by Call of the Nightwing, but it's not what you want to be doing.
5 Points
4.0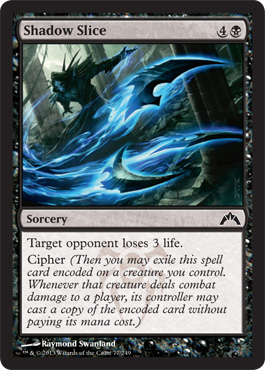 Shadow Slice
This is usually just an expensive Lava Axe, but if your deck turned out to be very aggressive, you might want it as a finisher.
2 Points
1.5
Other spells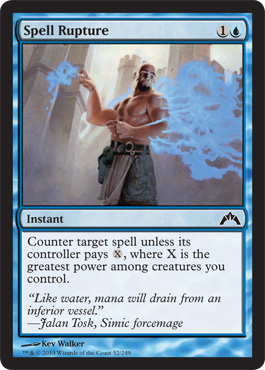 Spell Rupture
Depending on your board state, this is going to be Force Spike, Miscalculation or Mana Leak. It's probably better in Simic as your creatures a bigger, but it's still a cheap counter that might get you ahead on tempo.
3 Points
2.5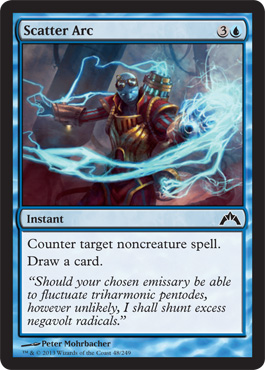 Scatter Arc
It's very situational and expensive, but it saves your cyphered guys from most removal spells. I wouldn't dismiss it as completely unplayable. And it nets you a card, if you get there.
2 Points
1.5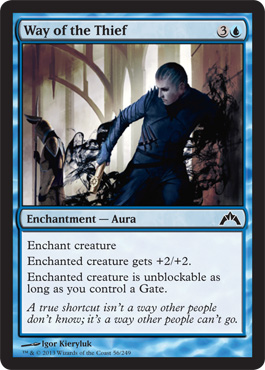 Way of the Thief
In Return to Ravnica auras have been much better than anyone expected, as there wasn't that much unconditional removal in the set. It might be true for Gatecrash as well, so I refrain from calling this unplayable. The stat enhancement is significant and if you already splash a third color and have multiple gates, it might actually be good.
2 Points
1.5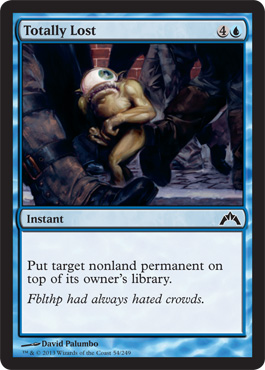 Totally Lost
It's very expensive for a tempo spell, so you better make sure to hit something good with it. It has some extended applications, because you are not limited to targeting creatures.
3 Points
2.5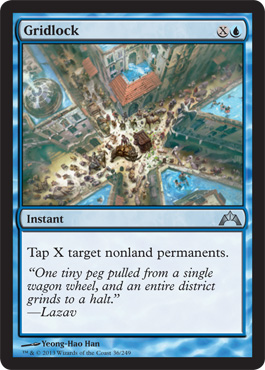 Gridlock
It's flexible and instant. Usually you will tap all your opponent's guys either EOT or at the beginning of combat. You then get a free hit with all your cyphered creatures, which should suffice to be game ending. It's probably a tad better in Simic as their guys are bigger, but it's still a powerful, albeit situational card.
4 Points
3.5
Wrapping up cypher
The good early threats (Cloudfin Raptor, Metropolis Sprite and Basilica Screecher) and Hands of Binding will be your most important cards. In general it's a high risk, high-reward strategy. By encoding cypher spells on your creatures you expose yourself to card disadvantage by your opponent's instant speed removal. Most cypher spells are expensive, so you better make sure to get at least one hit in with your cyphered creature.
The mill Deck
And now for something completely different: Milling your opponent. Mill strategies have been fringe-playable in some of the editions of the last couple of years, but never did make a huge impact in the limited metagame. I'm convinced that Wizards printed enough mill cards this time to actually make it a viable strategy.
In general you want a defensive control-shell for your deck, that for the first part is mostly concerned about not dying. As long as you are not taking damage, your win option (decking them) is already making progress. You then can add additional synergies to speed up your clock for the mid- to late-game.
Creatures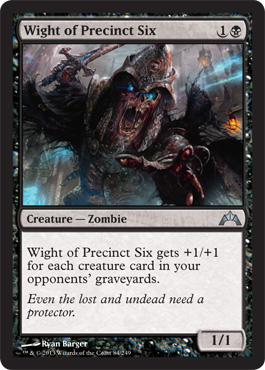 Wight of Precinct Six
It doesn't take too many mill activations to grow this to a decent sized body that can hold off the ground. However its function (blocking big guys) is replaceable by other commons such as Corpse Blockade, Clinging Anemones or Leyline Phantom.
3 Points
2.5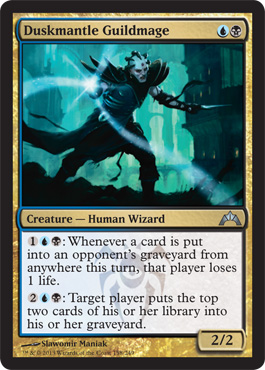 Duskmantle Guildmage
The guildmage is as schizophrenic as the Dimir guild, with two very different abilities. You are probably only interested in the second ability, which is expensive. But still, like all guildmages, it gives you a mana sink in the lategame, when you run out of spells.
4 Points
3.0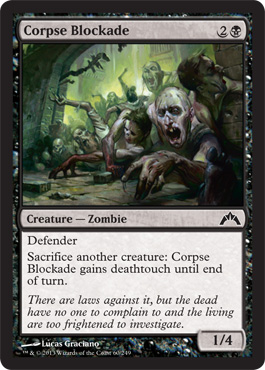 Corpse Blockade
This is good, early defense and a potential sac-outlet for Mortus Strider. It's important, but you probably won't have to fight over it with other drafters at the table.
3 Points
2.0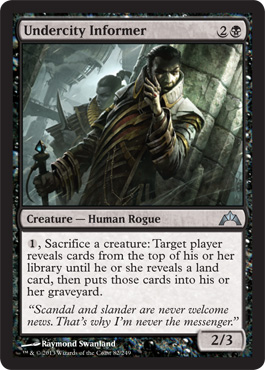 Undercity Informer
Another build-around-me card, that is going to be very good given the right synergies. It combos with Mortus Strider and can act as a sudo Fireball in the lategame. Be sure to count your opponent's lands in all public zones and do your math, before going all-in though.
4 Points
2.5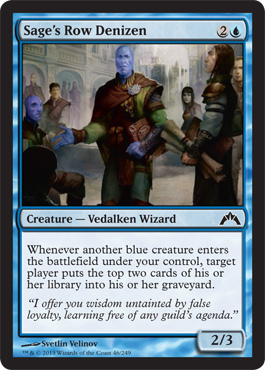 Sage's Row Denizen
I believe this guy is going the be the core of the mill engine. His base stats aren't as bad as one would think and his defensive applications against fast 2 drops are actually quite potent. He's good on his own and becomes much better in multiples. Also combos with Mortus Strider, if you want to go deep.
5 Points
2.5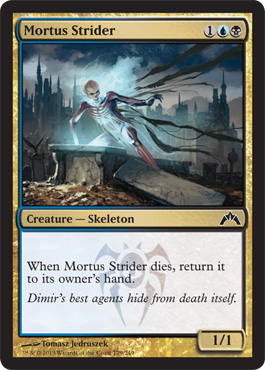 Mortus Strider
This one looks like a very expensive Drudge Skeleton. It's acceptable on chump blocking duties, but it's real use is going to be cannon-fodder for Corpse Blockade or Undercity Informer. It also gives you additional triggers on Sage's Row Denizen. If you combine these effects, you have a card that nobody else wants and that is going to be a role-player in your deck.
4 Points
2.0
Ballustrade Spy
The spy has a synergistic ETB trigger and gives you some much needed defense in the air, meaning that he can hold off or trade with almost all common flyers in the format. The cypher decks probably want him too, but not as much as you.
4 Points
3.0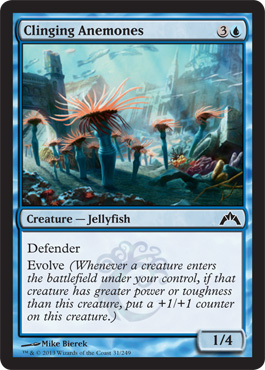 Clinging Anemones
This can potentially grow big enough too hold off Gruul's midrange monsters. It's blue, so it triggers Sage's Row Denizen. But all in all it's not a very high priority and you probably don't have to fight with other drafters over this card. Take them late and add them as a bonus.
2 Points
1.5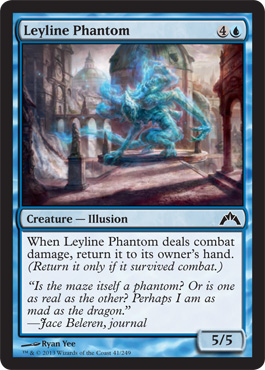 Leyline Phantom
The drawback on this one is very real. However its stats are good enough to hopefully keep your opponent from attacking. You might get some additional triggers from the bounce ability, but the loss of tempo is going to be significant.
1 Point
1.5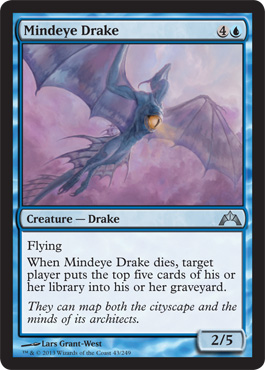 Mindeye Drake
It flies, has a big defensive body and a very relevant ability. Every other blue deck is going to want it too, even without making use of the mill trigger, so take it early.
5 Points
3.5
Spells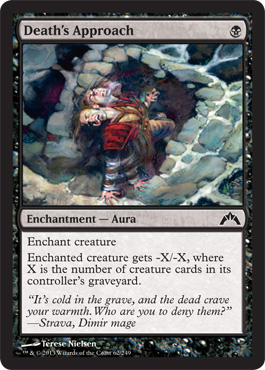 Death's Approach
Assuming your mill engine is working, this one might as as well be Swords to Plowshares. If you are not outright killing their creatures, at least you're shrinking them down to a manageable size for your defenders. Other drafters don't want this as, it's almost useless without a dedicated mill theme.
5 Points
3.0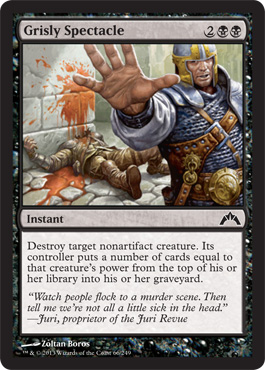 Grisly Spectacle
This card is the premium black removal spell in the format. It's a reason to go black in a pack without any spoiler rares and will probably be gone in the first three picks most of the time. It has some synergies with the mill deck, but every other black drafter can make good use of it as well.
5 Points
4.0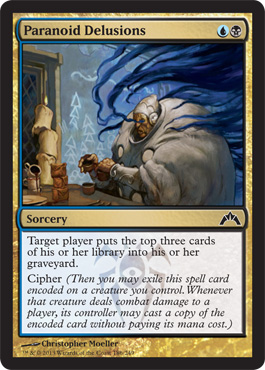 Paranoid Delusions
I think this card is a trap and you don't want to play it in the mill deck. You might need it at some point to fasten up your clock in a race situation, but you have to make too many concessions (like having creatures in your deck, that actually want to attack) in order to make it playable.
1 Point
1.0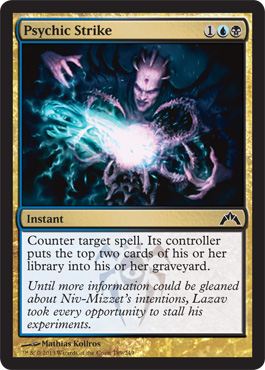 Psychic Strike
I'm not a huge fan of expensive counter spells in limited. I would rather develop and stabilize my board. If I have a way to spent mana on my opponent's turn other than leaving up the counter, it might make it in from time. It's mildly synergistic and can potentially deal with problematic spells, that you would have otherwise no solution for.
2 Points
2.5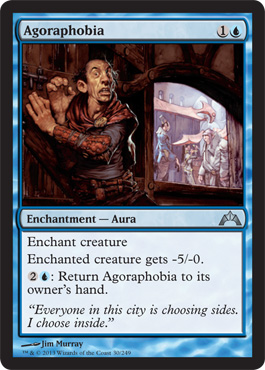 Agoraphobia
-5/-0 is good enough to stop most attackers. It's cheap and you can switch it around once your opponent plays something more problematic. It's best in your deck, but every blue deck with evasion is going to want it too.
4 Points
3.5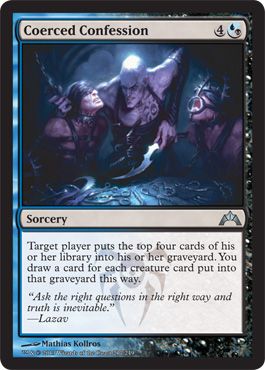 Coerced Confession
This one is way too high-variance for my taste. If you get very lucky, you might hit two creatures, but even then you paid 4 mana for a sorcery speed Inspiration. I would never play it, if I don't have to.
1 Point
0.5
Wrapping up mill
You should try to assemble the triplet of Sage's Row Denizen, Mortus Strider and Corpse Blockade. Death's Approach will be your premium removal spell of choice. You should prefer blue creatures to black ones to get as much value as possible out of Sage's Row Denizen. The biggest advantage of the mill deck is, that you are looking for a lot of cards that nobody else wants. I would suggest taking the uncommons and removal early and hoping to wheel your common combo pieces. If the mill deck is competitive enough, that might change in the future.
Unaffiliated cards
Additionally there are a couple of cards left, that are not directly affiliated with one of the two archetypes or are much better in the friend-color (Orzhov and Simic) guilds.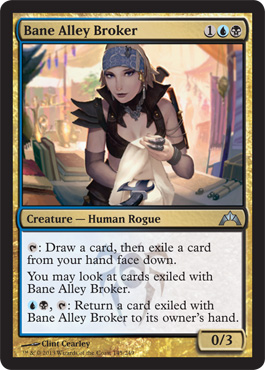 Bane Alley Broker
Looters have always been strong in limited and this one is no exception. She will find your combo pieces and eventually draw you cards, assuming you are not dying. She's a bit on the slow side. Nevertheless a very high pick, other UB decks probably want her too, so take her early.
5 Points
3.5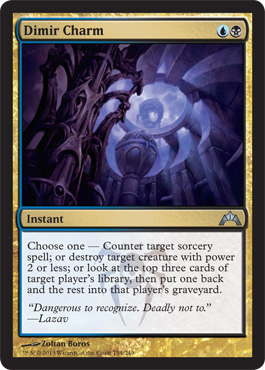 Dimir Charm
This will kill a small guy ninety percent of the time and counter a sorcery on occasion. Please do yourself a favor and never use the third mode. It's still efficient, instant and cheap removal, so I'd always play it.
3.0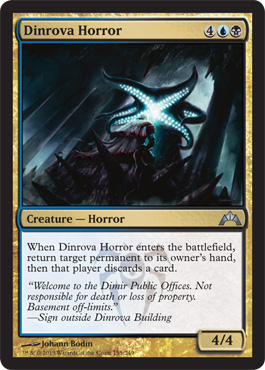 Dinrova Horror
The stats on this one are very good compared to your guild. The ETB trigger is relevant and if they run out of cards might even become a Nekrataal on occasion. Probably tied with Call of the Nightwing for best uncommon in Dimir.
4.0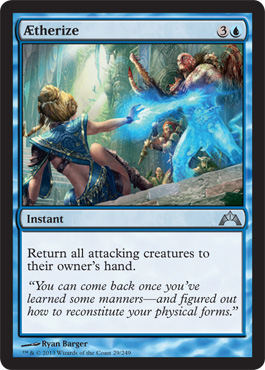 Aetherize
A very good, defensive trick against aggressive decks. I would always start with it in my 40 cards, but when playing against more control-oriented ones, I'd probably side it out.
3.5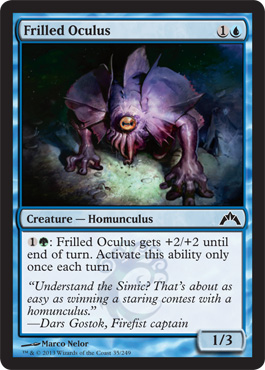 Frilled Oculus
If you're not splashing green, this is a 1/3 for two, which is okay, but nothing to write home about. Adjust accordingly when you can pay for the ability.
1.5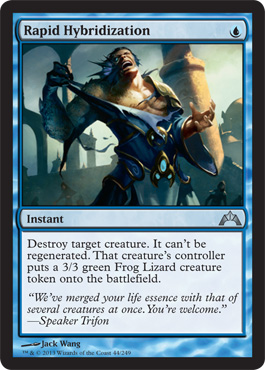 Rapid Hybrdization
This is much better in Simic as removal and/or combat trick. It still kill their best creature for just one mana, but has a minor drawback. If I didn't get any Grisly Spectacle, I'd not be ashamed to play this.
2.5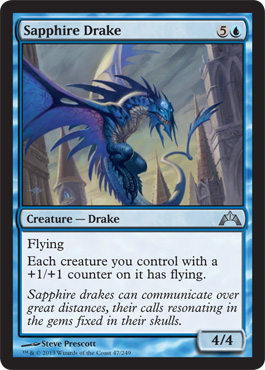 Sapphire Drake
Another Simic card. You won't get much mileage out of his ability in Dimir, but it's still a huge flying body, that will end games.
3.5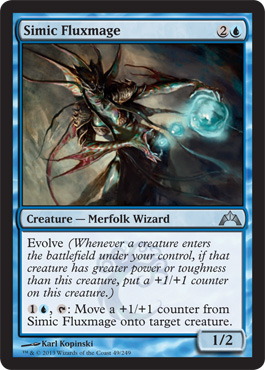 Simic Fluxmage
And the Simic combine continues: Worse in your deck, but still playable.
2.5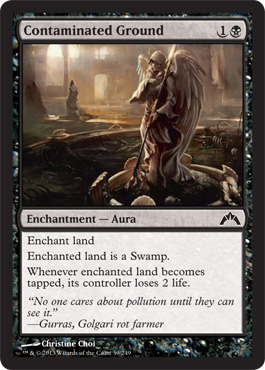 Contaminated Ground
Don't play this card. I might side it in against the 5 color guildgate deck, but that's going happen one time in a hundred games.
0.5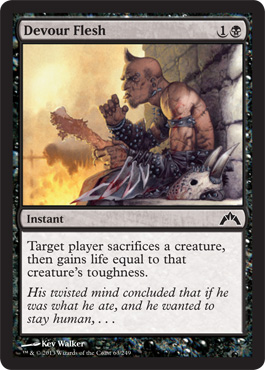 Devour Flesh
The usefulness of this card will vary highly. It's very good in the early game, but almost useless in the late game. It doesn't play well with enchantment removal such as Death's Approach. If you are in need of some instant lifegain, you can sac your own guy, for what it's worth.
2.5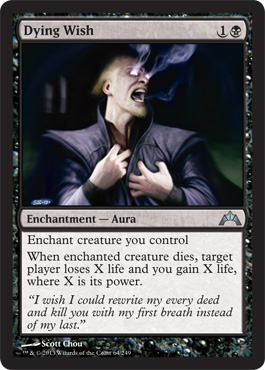 Dying Wish
This card takes a complicated setup for a minor effect. If you could target creatures with its ability, it might actually be good. I haven't figured out how to break it in limited yet and I don't think I ever will.
0.5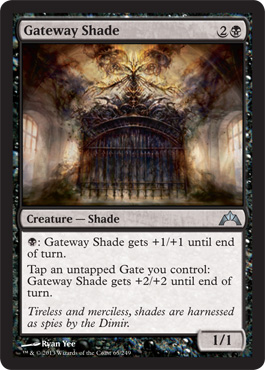 Gateway Shade
Depending on the number of gates in my deck (I'd say 3+), I would play this card a finisher in a slow control deck.
2.5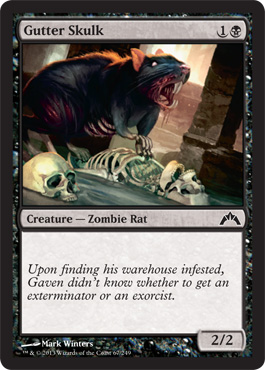 Gutter Skulk
We've come a long way that black has now access to a card, that is essentially Grizzly Bears. This will make the deck from time to time, but I think it's much better in an Orzhov aggro-shell.
2.0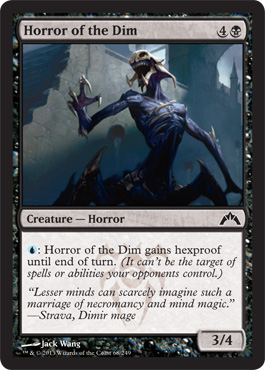 Horror of the Dim
Your five mana common fattie doesn't compare to well against the five drops of the other guilds in battle. Its hexproof ability might be relevant from time to time, like when you slam Way of the Thief on it.
1.5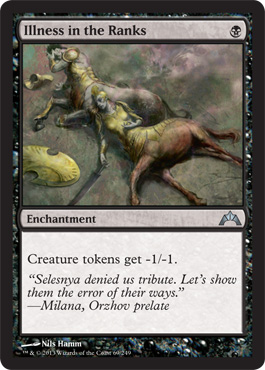 Illness in the Ranks
This is a constructed sideboard card. If you face the deck with 4 Call of the Nightwing you might side it in, but the likelihood of that isn't very high, right?
0.5
Killing Glare
Death Wind this is not. It's good against defensive decks, but when facing Gruul its cost highly increases. It's still removal after all.
3.0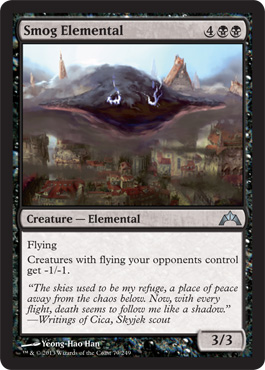 Smog Elemental
This is a bit too expensive for a Phantom Monster. It's ability is going to be relevant in some and dead in other matchups.
2.5.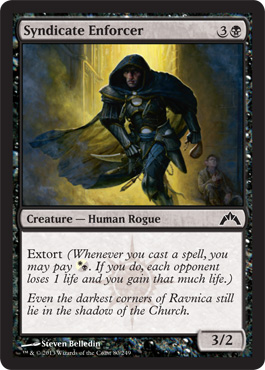 Syndicate Enforcer
The enforcer is probably the worst (bad stats, bad price) extort card in the set and House Dimir will not have too many uses for him.
1.5.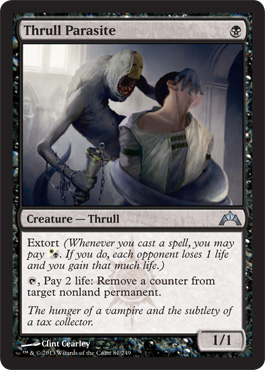 Thrull Parasite
Its ability might be relevant against Simic, but I would not happily maindeck it in the cypher or the mill deck.
1.0
Conclusion
Drafting and playing Dimir is going to be hard. You have two very different strategies and knowing which card belongs in which archetype is going to highly impact your expected win percentage. When playing in a less competitive environment, be warned that casual players will likely take your mill and cypher cards away. I believe Dimir is the 'Izzet of the set', meaning that its synergies are less obvious compared to the other guilds and it will be underdrafted at first. An estimation you can hopefully capitalize on, given the right knowledge.
28.01.2013 • #Limited, #Draft, #Gatecrash, #Strategy